Retail Influencer CEO Forum
Speakers & Moderators
Speakers include C-suite professionals and some of the world's most fascinating leaders from the retail, beauty and technology industries.
Founder & CEO, JUV Consulting
12:00–2:00 VIP Lunch
Ziad Ahmed is the CEO of JUV Consulting, a Generation Z consultancy that works with clients to help them understand young people.
JUV has worked with over 20 Fortune 500 companies, has been profiled by the New York Times, and has launched major purpose-driven TikTok campaigns. Because of JUV, Ziad was named to the 2019 Forbes #30Under30 list when he was just 19-years-old.
Recently graduating from Yale, Ziad is the Founder of Redefy, a youth-run non-profit committed to furthering equality. He speaks often on the power of his generation, and seeks to use his voice to push the envelope forward wherever/however possible. Overwhelmingly though, he's just another Gen Z'er spending way too much time on TikTok.
Founder & CEO, The Difference
12:00–2:00 VIP Lunch
Bea Arthur, LMHC is a Columbia University-trained psychotherapist, award-winning entrepreneur, TEDx speaker, and pioneer in the e-therapy space.
As the first African-American female founder accepted by Y Combinator, Bea was named an Entrepreneur to Bet On by Newsweek Magazine and one of the 100 Most Inspirational New Yorkers by Bumble.
Ms. Arthur is the founder and CEO of The Difference, the first on-demand therapy service for in the moment issues; and co-host of Tribulations, a live comedy/therapy show with Roy Wood Jr.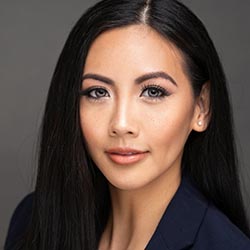 CEO, Queenly
12:00–2:00 VIP Lunch
Trisha Bantigue is the CEO and co-founder of Queenly, the leading online marketplace for the formalwear industry. She was recently featured on the Forbes 30 Under 30 2022 list and she was the cover for the Art & Style category. Prior to founding Queenly, she graduated from UC Berkeley and has worked at tech companies such as Google, Facebook and Uber.
Coming from a low-income, immigrant background, she found the opportunity to gain scholarship awards through competing in pageants. Then, she found her initial inspiration for starting Queenly from this unique experience and seeing so many women struggle to find and afford their dream dress for their special event. She now strives for Queenly to reflect the progressive, inclusive goals that she stands for and to be able to provide access and affordability to women everywhere.
Founder & CEO, Trndsttrs
12:00–2:00 VIP Lunch
Jake Bjorseth is a youth activist, entrepreneur, and speaker. Jake is the founder and CEO of Trndsttrs, a Gen Z agency helping brands understand and reach Gen Z. In his role as CEO, Jake leads a team of 25+ across their Kansas City, San Diego, and Manila, Philippines offices.
Trndsttrs' client portfolio includes the likes of McDonald's, Johnson & Johnson, L'Oreal, PacSun, The North Face, California Public Utilities Commission, Los Angeles Unified School District, and more...
Senior Correspondent, The Business of Fashion
12:00–2:00 VIP Lunch
Sheena Butler-Young is a Senior Correspondent at The Business of Fashion (BoF). She is based in New York and leads BoF's coverage of workplace, talent and company culture. She is the former deputy editor of Footwear News magazine and the recipient of Penske Media Corporation's Journalistic & Creative Excellence Award for her coverage of diversity issues in fashion. She has a Masters in Mass Communications from Southern Illinois University in Edwardsville, Illinois.
Joanna Coles, OBE
Creative Entrepreneur and Editor
12:00–2:00 VIP Lunch
Joanna Coles, OBE Is a creative executive, producer, and best-selling author, managing a portfolio of TV and podcast projects with ABC, Amazon and Apple. She sits on three public boards (Snap, Sonos, Bark) and advises Masterclass, Klarna and Cornell Capital, a private equity company. She is also the Executive Producer of Hulu's The Bold Type (on Netflix globally), the five season TV drama inspired by her career.
Coles is the former Chief Content Officer of Hearst Magazines, responsible for 300 magazines globally. She is also a director of the private tech companies Density, and Grover, Europe's largest tech-rental platform based in Berlin, and KDC the global beauty manufacturer. And she advises the non-profit Women Entrepreneurs New York City, an initiative to expand female entrepreneurship, with a focus on underserved women and communities. In 2020 she also raised the Northern Star Special Acquisition Series, NSI merged with Bark, the dog toy and treat company.
The British-born editor moved to the U.S. in 1997 as the New York Bureau Chief for The Guardian, before becoming the New York Bureau Chief for The Times of London.
Coles joined Hearst in 2006 as editor-in-chief of Marie Claire, where she co-produced the Style Network's unscripted show Running in Heels. She was also the on-air mentor for Project Runway AllStars. She was named editor-in-chief of Cosmopolitan, the world's largest women's media brand, in 2012. She was the executive producer of the unscripted series So Cosmo on E! in 2017.
Over the course of her career, Coles has won numerous prestigious awards for journalism and media leadership, including a Matrix Award, and a National Magazine Award for Cosmopolitan. the first in its 50 year history. She was recently described by The New York Times as "one of the most powerful people in media."
Coles is the author of the best-selling Love Rules, published by HarperCollins, about relationships in the digital age, now being made into a TV show for FX.
She lives in Manhattan and has two sons, with the author Peter Godwin.
Founder & CEO, CLLCTVE
12:00–2:00 VIP Lunch
Kelsey Davis is the Founder/CEO of CLLCTVE, the portfolio platform connecting creators to paid opportunities. CLLCTVE is a software technology company fueled by partners like Google and Techstars.
Prior to CLLCTVE, Davis was known for producing visual content for global consumer brands like Coca Cola, Land Rover, Puma and Conde Nast Entertainment.
Since graduating from Syracuse University with a BS in Television, Radio, and Film ('19) and MS in Entrepreneurship ('20), Davis has already been featured as a next-gen leader by Forbes 30 Under 30, Adweek, and the NY Times.
Author; Founder & CEO, Pie
Co-Founder, Bonobos
12:00–2:00 VIP Lunch
Andy Dunn co-founded menswear brand Bonobos and served as CEO until its 2017 acquisition by Walmart. As an investor, he has backed more than eighty startups, including Warby Parker, Coinbase, Away, Glossier, Real, Parade, SeatGeek, and Alula.
In May 2022, Dunn released a memoir titled Burn Rate: Launching a Startup and Losing My Mind, which explores the intersection of entrepreneurship and mental illness.
Dunn's next business venture, called Pie, is a social media app currently in beta that aims to create more in-person, human connections.
Dunn, a graduate of Northwestern and Stanford's MBA program, also serves on the boards of Monica + Andy, an organic baby apparel company founded by his sister Monica Royer, tech social good nonprofit Raised By Us, and the Network for Executive Women.
Founder & CEO, Bubble Skincare
12:00–2:00 VIP Lunch
Bubble Skincare CEO and founder Shai Eisenman at 30 years old is already one of the world's foremost Gen Z consumer experts. Bubble was born when Shai saw a massive gap in the market for a modern skincare brand specifically targeted to Gen Z consumers' needs. She was surprised to discover that the most digitally sophisticated and globally connected generation ever was still using the exact same traditional skincare products that their mothers had purchased in drugstores decades ago.
Bubble's passionate community of Gen Z consumers led Shai to develop formulations that are both accessibly priced and incredibly effective. This winning combination has turned Bubble into one of the fastest growing skincare lines ever, evolving from a DTC-only brand at launch two years ago to disrupting the shelves of 3900 Walmart stores and 4100 CVS stores nationwide today.
12:00–2:00 VIP Lunch
VP of Content, Retail TouchPoints
Alicia Esposito is the VP of Content for Retail TouchPoints and the Retail Innovation Conference & Expo. She focuses on creating content that is meaningful and actionable for executives who visit Retail TouchPoints.com, listen to the Retail Remix podcast and attend the company's various digital and in-person events.
In her work, she has interviewed some of the top C-level executives from retail brands and tech companies, and has recently focused on analyzing some key trends in social commerce, new media and community-driven store experiences.
Managing Partner, Intuition Capital
12:00–2:00 VIP Lunch
Patrick Finnegan is a venture capitalist and entrepreneur with 150+ companies under his belt. He has always dedicated himself to the causes he believes in, ever since gaining recognition at 11-years-old fundraising for then-Senator Obama's first presidential campaign.
At 20, Patrick pivoted toward a value-add investment approach and created a small fund to engage the elusive and highly sought-after Gen-Z market. With an innovative process cultivated through years of firsthand experience, his incredible outreach of social media influence, and a large network of invaluable connections, Patrick has invested in a significant amount of the hottest companies in recent history and is now onto his third fund. His early investments illustrate Finnegan's professional savvy and varied taste. They include lifestyle brands such as Starface, WinkyLux, Poppi, Augustinus Bader, Quip, PicsArt, Hims, Bumble, Parade, Owner, Public, Moov and many more.
Women's Health Advocate & Co-Founder of Phia
12:00–2:00 VIP Lunch
Phoebe Gates is an entrepreneur, a women's health advocate and a student at Stanford University. She has a deep passion for gender equality, women's health and sustainable fashion—and is driven to use her voice, platforms, and work to harness meaningful change.
Together with her college roommate, Sophia Kianni, Phoebe is the co-founder of Phia, a startup leveraging tech to make shopping for sustainable fashion the simple choice. Phia is a platform that enables customers to easily shop circular fashion that fits their style and reduces their environmental impact.
Phoebe is actively engaged in supporting and learning from local communities and organizations fighting for women's reproductive freedom and a more sustainable future in the U.S. and Sub-Saharan Africa. Phoebe is also the youngest daughter of Bill Gates and Melinda French Gates. Together, these experiences have informed her commitment to social impact and her decision to speak out in support of a more equitable future for everyone, everywhere.
Jessica Giles
Editor-in-Chief, Cosmpolitan
12:00–2:00 VIP Lunch
Jessica Giles is the editor-in-chief of Cosmopolitan, the largest young women's media brand in the world. In this position, Giles is committed to serving Gen Z and millennial women the information they need to live their fullest lives—timely breakdowns of what's happening in the news, smart advice on everything from 401Ks to fashion trends to sexual health, deeply reported original features, and more, overseeing all editorial content across print, digital, social, video, and innovative brand extensions.
Giles has been named Editor of the Year by Adweek (2019) and among the Women to Watch by AdAge (2019). Under her leadership, Cosmopolitan has been celebrated as the Hottest in Fashion by Adweek (2021) and was the only media brand named to the inaugural Fast Company Brands that Matter (2021) list recognizing companies and nonprofits that continue to have an undeniable impact on business and culture.
Prior to becoming Cosmopolitan's youngest editor-in-chief in October 2018, Giles served as the digital director of Cosmopolitan, where she led the site to its highest readership of all time. Earlier in her career, she worked as the digital director at Marie Claire, features editor at Teen Vogue and held various editorial positions at Glamour.

Emily Gittins
Co-Founder & CEO, Archive
12:00–2:00 VIP Lunch
Emily Gittins is the Co-founder and CEO of Archive, a technology company that partners with brands to launch innovative, customized resale programs that meet their business and sustainability objectives.
Emily began her career in strategy consulting working with consumer and technology clients at BCG London. More recently, she worked at Google X on a stealth fashion concept. Her work at Google made her keenly aware of the environmental impact of the fashion industry, and she focused her graduate studies at Stanford University on how the circular economy could reduce fashion's environmental impact.
Archive, founded in 2020, works with global brands including The North Face, Oscar de la Renta, and Marimekko to build authentic resale experiences that keep clothing in wear, while simultaneously bringing brands new revenue, building customer loyalty, and driving new customer acquisition.
Emily holds a BA in Mathematics from the University of Cambridge and a MS MBA in Environmental Science from Stanford's Graduate School of Business.
Sophia Kianni
Co-Founder of Phia, UN Advisor
12:00–2:00 VIP Lunch
Sophia Kianni is an Iranian-American social entrepreneur and activist studying at Stanford University. She is the co-founder of Phia, alongside her best friend Phoebe Gates, a tech venture focused on making shopping sustainable fashion simpler. She is also the founder of Climate Cardinals, an international nonprofit with 9,000 volunteers in 40+ countries. She is the youngest person to ever serve as a United Nations advisor.
Sophia has amassed a following of over 200,000 across social media platforms and her work has been featured in news outlets including The New York Times, CNN, Vogue, Business Insider, BBC, NPR, ELLE, The Guardian, NBC, and even on the front page of The Washington Post. She was previously a fellow with PBS NewsHour and has been a freelance journalist for news outlets such as TIME Magazine, The Washington Post, MTV News, Cosmopolitan, and Teen Vogue.
She has been named VICE Media's youngest Human of the Year, a National Geographic Young Explorer, among Business Insider's Climate Action 30, one of Teen Vogue's 21 under 21, and a Forbes 30 under 30 honoree.
Laurie Lam
Chief Brand Officer, e.l.f. Beauty
12:00–2:00 VIP Lunch
Laurie Lam is the Chief Brand Officer at e.l.f. Beauty, a multi-branded portfolio which includes namesake brand e.l.f. Cosmetics, e.l.f. SKIN, Well People and Keys Soulcare. She is responsible for strengthening e.l.f.'s branding and setting its strategy for growth across all categories, as well as championing their mission to make the best of beauty accessible to every eye, lip, face and paw.
Laurie Lam is the Chief Brand Officer at e.l.f. Beauty, a multi-branded portfolio which includes namesake brand e.l.f. Cosmetics, e.l.f. SKIN, Well People and Keys Soulcare. She is responsible for strengthening e.l.f.'s branding and setting its strategy for growth across all categories, as well as championing their mission to make the best of beauty accessible to every eye, lip, face and paw.
President, thredUP
12:00–2:00 VIP Lunch
Anthony serves as President of thredUP and is responsible for marketplace supply and demand growth. He directs the company's consumer-facing initiatives that are inspiring a new generation of consumers to think secondhand first.
Before thredUP, Anthony spent seven years serving directly under Sir Richard Branson's Virgin Group. He led the creation of multiple Virgin businesses, including the Virgin Hotels Group, where he served as CEO. Prior to joining Virgin, Anthony was a Principal at Venrock, where he worked closely with start-up founders to develop highly-disruptive products and scale their businesses through periods of rapid growth.
Anthony earned an AB, magna cum laude, from Princeton University where he was a Rhodes Scholar national finalist, and an MBA from Harvard Business School.
Maggie McGrath
Editor, ForbesWomen
12:00–2:00 VIP Lunch
Maggie McGrath is the editor of ForbesWomen, the Forbes vertical dedicated to covering all angles of female entrepreneurship, and the author of the ForbesWomen newsletter.
Maggie loves a good Forbes list: she is the editor of the 50 Over 50 and the World's 100 Most Powerful Women, and previously edited the 30 Under 30 Food & Drink list and the Just 100. She's worked at Forbes since 2013 and in that time has written on everything from the student debt crisis to Triple Crown-contending (and winning) horses. Before coming to Forbes, Maggie worked with TODAY show financial editor Jean Chatzky.
Stephanie Mehta
CEO & Chief Content Officer, Mansueto Ventures
12:00–2:00 VIP Lunch
Stephanie Mehta is chief executive officer and chief content officer of Mansueto Ventures, publisher of Inc. and Fast Company. She previously served as editor-in-chief of Fast Company, where she oversaw digital, print, and live journalism. Under her leadership Fast Company was a National Magazine Award finalist in design for three years in a row, and the title added two new annual conferences. She has worked as a writer and editor at Vanity Fair, Bloomberg Media, Fortune, and The Wall Street Journal.
Mehta sits on the boards of the American Society of Magazine Editors, the Women's Forum of New York, and Airbel Impact Lab, the research and innovation arm of the International Rescue Commission.
Mehta began her career as a business reporter at The Virginian-Pilot in Norfolk, Virginia. She received a BA in English and an MS in journalism from Northwestern University. A Chicago-area native, she now lives with her husband and two children in Scarsdale, New York.
Founder & Executive Chairman, Union Square Hospitality Group
12:00–2:00 VIP Lunch
Danny is the Founder of Union Square Hospitality Group (USHG) and the Founder and Chairman of Shake Shack. USHG comprises some of New York's most beloved restaurants, including Union Square Cafe, Gramercy Tavern, The Modern, Ci Siamo, Daily Provisions, and more. Danny and his team have earned an unprecedented 28 James Beard Awards, including Outstanding Restaurateur in America and Humanitarian of the Year. His business book, Setting The Table, a New York Times best-seller, examines the power of hospitality in restaurants, business, and life.
A sought-after speaker and educator, Danny has set industry standards for innovative hiring practices, building culture, corporate responsibility, and leading change. He earned a bachelor's degree in political science from Trinity College.
Founder & Designer, Rebecca Minkoff
12:00–2:00 VIP Lunch
An industry leader in accessible luxury handbags, accessories, footwear and apparel, Rebecca Minkoff's modern bohemian designs are inspired by strong, confident and powerful women who are drawn towards a west-meets-east sensibility.
After developing an affinity for design while in the costume department in high school, Rebecca Minkoff moved to New York City at age 18 to pursue her dream of becoming a fashion designer.
In 2001, Rebecca designed a version of the "I Love New York" t-shirt as part of a five-piece capsule collection, which appeared on The Tonight Show and became an overnight sensation.
In 2005, Rebecca designed her first handbag, which she dubbed the "Morning After Bag," a.k.a. the "M.A.B." This iconic bag ignited Rebecca's career as a handbag designer and inspired her edgy, feminine creations in the years to come. Rebecca's success was further enhanced by the support of her brother, the company's CEO and co-founder, Uri Minkoff, who helped usher in and pioneer the company's industry-leading innovations with technology and fashion.
After four years of designing statement-making handbags and accessories with her trademark leathers, studs and hardware, Rebecca returned to her roots of apparel design and introduced her first ready-to-wear collection in 2009.
Today, Rebecca Minkoff is a global brand with a wide range of apparel, handbags, footwear, jewelry and accessories products. In the spring of 2017, Rebecca Minkoff Watches was launched, reimagining the category through their decidedly downtown, rock-and-roll aesthetic.
The brand has 3 national retail stores, eight international locations, and is distributed in over 900 stores worldwide. In 2015, Rebecca Minkoff stores unveiled the first ever "Magic Mirror" technology, where customers could interact with mirrors installed in the dressing room walls of her store and tap to pick out additional sizes, colors and styles of clothing.
In 2011, Rebecca won industry recognition when she was awarded the Breakthrough Designer Award from the Accessories Council. She is an active member of the CFDA, and supports multiple philanthropies including Baby2Baby organization.
In September of 2018, she established the Female Founder Collective, a network of businesses led by women who invest in women's financial power across a socio-economic spectrum by enabling and empowering female-owned businesses.
In 2020, Rebecca will launch a diffusion line of children's clothing called 'little minkoff", marking a foray into designing a truly sustainable and environmentally friendly collection. She will also launch a new name sake fragrance to be sold at retailers nationwide.
Rebecca is married to director Gavin Bellour, and they reside in Brooklyn with their three children.
Elizabeth Oates
Vice President of Consumer Insights, Ulta Beauty
12:00–2:00 VIP Lunch
Elizabeth Oates is the Vice President of Consumer Insights at Ulta Beauty where she actively ensures consumers are the heartbeat of the organization. She's built a Consumer Centricity Center of Excellence that leverages both insights and foresights to influence strategies with in-the-moment relevance as well as implications for the future. Elizabeth's work has elevated the insights function to operate as a strategic business driver and competitive advantage. Her efforts are fueled with more than 18 years of experience across retail, CPG and financial services.
Elizabeth enjoys developing new leaders and has established nine core skills for insights professionals, each designed to influence organizations to act on insights. She shares her knowledge as a regular guest-lecturer at the University of Wisconsin School of Business. Elizabeth has been recognized as one of the Top 8 to Watch by the University of Wisconsin School of Business and a finalist for the Quirks Media Transforming Insights honor. Elizabeth is a founding member of the Retail Think Collective, a group of future-forward minds leading human-centric innovation in retail.
Outside of the office, Elizabeth enjoys spending time with her family, including her two daughters. She is an ultra-marathoner, avid traveler and a St. Jude Children's Research Hospital Hero.
Shawn Outler
Chief Diversity, Equity and Inclusion Officer, Macy's, Inc.
12:00–2:00 VIP Lunch
Shawn Outler is a seasoned executive with a proven track record for driving strategy, growth and results. A dynamic business leader with over 30 years of experience in the retail industry across multiple categories and businesses, she has been tapped repeatedly to pioneer or scale key enterprise opportunities. Shawn is the Chief Diversity Officer of Macy's, Inc., a role she has held since 2018.
Over the course of her career, Shawn has distinguished herself as an innovative thinker, a focused and results-oriented business driver, and a strong and inspiring leader. Starting out as an Executive Trainee at Abraham & Strauss before joining Lord & Taylor and then Macy's, Shawn advanced rapidly through the Buying and Merchandising functions before taking on broader management responsibilities over high growth businesses ranging from weddings, gifting and electronics to leased, licensed and culinary/food service.
An advocate for multicultural businesses since 2009, Shawn has a rich history of identifying, working with and developing minority and women-owned opportunities. In 2011, she designed and led a retail development and mentorship program called The Workshop at Macy's. Created to educate and train minority and female business owners for success in the retail industry, the program is now in its 10th year, and has become an industry benchmark and model for retail supplier diversity.
In 2018, Shawn was appointed by the CEO to become the first Chief Diversity Officer of Macy's, Inc. and co-Chair of the Company's Diversity & Inclusion Business Council. In her first year in that role, Shawn developed a bold vision and charter to advance and embed strong, forward-looking D&I practices across the entire Macy's, Inc. organization (Macy's, Bloomingdale's, Bluemercury, STORY). She is the architect of the Company's D&I strategy, structure, focus areas, key initiatives, and performance metrics, and is the voice of the work and its mission within Macy's, Inc. and out to the retail industry.
In addition to being a frequent speaker and panelist on many aspects of diversity & inclusion, Shawn has been been recognized or featured for her professional accomplishments, including: Black Enterprise magazine Women of Power and Most Powerful African American Executives in Corporate America; National Retail Federation (NRF) People Shaping Retail's Future, Black Retail Action Group Power of Excellence Award, NAACP Community, Business, Service and Multicultural Award, and Syracuse University's Chancellor Citation for Distinction in Retailing and Multicultural Development.
Shawn is a member of the LIM College Fashion Industry Advisory Board and The Women's Forum of New York, co-President of the Black Retail Action Group, and a member of the Syracuse University Multicultural Advancement Council. Shawn received an honorary Doctor of Commercial Science degree and Distinguished Achievement Award from LIM where she delivered the keynote address at the 2018 commencement ceremony.
Shawn is a graduate of the Whitman School of Management at Syracuse University and resides in New York City.
Co-Founder & CEO, Blueland
12:00–2:00 VIP Lunch
Sarah Paiji Yoo is CEO and Co-Founder of Blueland, a sustainable home essentials brand reimagining everyday products to eliminate single-use plastic packaging. Sarah is a serial retail entrepreneur passionate about sustainability and innovation.
Prior to Blueland, she was a Partner at LAUNCH, a leading startup studio, where she launched and operated several consumer brands including M.Gemi, Rockets of Awesome and Follain. She was previously co-founder and CEO of Snapette, the largest mobile platform for local fashion shopping, which was sold to leading e-commerce platform Pricegrabber in 2013. Sarah was featured on Season 11 of Shark Tank and has contributed to The Wall Street Journal, TechCrunch, Forbes, Time, InStyle and Glamour.
Sarah attended Harvard College and Harvard Business School and currently lives in New York City with her sons Noah and Colin, and husband Ken.
Sapna Parikh
Chief Digital Officer, Kendo Brands, LVMH (Fenty Beauty, Fenty Skin, Ole Henriksen, KVD Vegan Beauty and Lip Lab)
12:00–2:00 VIP Lunch
Sapna is the Chief Digital Officer at Kendo Brands, LVMH (Portfolio of brands include Fenty Beauty, Fenty Skin, Ole Henriksen, KVD Vegan Beauty and Lip Lab) bringing over 25 years of Digital & Omni-Channel retail experience.
Sapna's expertise is in building high-performing digital teams and driving step change growth through digital innovation. Sapna previously built digital organizations at both Avon and Clarins Groupe but has spent most of her career at high-growth ecommerce start-ups.
As a true pioneer in the industry Sapna has been profiled in countless media outlets including, Forbes.com and on the cover of Beauty Store Business, has won numerous awards, and has been invited to share her experiences on many stages.
CEO, Forever 21
12:00–2:00 VIP Lunch
Winnie Park is a seasoned business leader with deep international omni-channel brand experience and a track record growing and enhancing businesses within the retail and fashion industry. Prior to joining Forever 21, Winnie served as CEO of Paper Source where she transformed the brand from a brick-and-mortar retailer to an omnichannel brand with a robust digital platform. Prior to joining Paper Source, Winnie served as Executive Vice President - E-commerce and Global Marketing at the international luxury retail leader, DFS - a division of LVMH. Winnie sits on the Board for Women in Retail Leadership and the Board of Advisors for Investcorp and is a member of the Board of Directors at Dollar Tree. A graduate of Princeton University, Winnie completed her bachelor's degree from the School of Public and International Affairs and her MBA in Corporate Finance and Marketing at the Kellogg School of Management, Northwestern University.
Reporter, MSNBC
12:00–2:00 VIP Lunch
Daniela Pierre-Bravo is a best-selling author and reporter for MSNBC's Morning Joe. She is a contributor and producer for NBC's "Know Your Value" platform and co-author of Earn It! with Mika Brzezinski. Her first solo book "'The Other'. How to own your power at work as a woman of color" came out in August.
A former Cosmopolitan magazine columnist, Pierre-Bravo has written on career advice, mental health, and financial wellness with an emphasis on women of color. Her work has been featured on the Today Show, CBS Mornings, Telemundo, Forbes, Cosmopolitan, Refinery29, New York Magazine, and more.
Joon Silverstein
SVP Global Marketing, Creative and Sustainability, Head of Coachtopia, Coach
12:00–2:00 VIP Lunch
Joon Silverstein is the Senior Vice President Global Marketing, Creative and Sustainability at Coach where she manages the brand's marketing strategy, digital innovation and omnichannel customer engagement. Joon also leads Sustainability for Coach, driving the brand's commitment to pioneering circularity in fashion. She has been the Head of Coachtopia since its inception, launching this new sub-brand focused on circular craft and collaborative creativity in April 2023.
Prior to joining Tapestry, Inc., Joon led transformative change at Louis Vuitton and Victoria's Secret, implementing bold visions for the customer experience and incubating new businesses. She began her career as a cultural anthropologist, receiving a B.A. in Anthropology from Columbia University before conducting fieldwork as a Fulbright fellow. She earned an MBA from Harvard Business School and built her retail and consumer expertise at The Boston Consulting Group.
Executive Vice President & Chief Corporate Affairs Officer, Pfizer
12:00–2:00 VIP Lunch
Before joining Pfizer in 2007, Susman held senior roles at The Estée Lauder Companies and American Express. She currently serves as co-chair of The International Rescue Committee, and on the board of UL Solutions. She is also a member of the Council on Foreign Relations. Susman graduated from Connecticut College and studied at the London School of Economics.
Susman was recognized by Forbes as one of the 2022 World's Most Influential CMOs and by LinkedIn as a 2019 Top Voice.
Breaking Through is her first book.
Stacy Taffet
Marketing Senior Vice President, PepsiCo Beverages North America
12:00–2:00 VIP Lunch
Stacy Taffet is currently Marketing Senior Vice President of PepsiCo Beverages North America. In this capacity, Stacy leads media, innovation, content, partnerships, and other marketing functions across the portfolio.
Prior to this role, Stacy was SVP of Brand Marketing for Frito Lay where she ran a portfolio of snack brands including Doritos, Cheetos, Lays and Ruffles.
Stacy has been with PepsiCo for 15 years and has held a variety of brand management, innovation, and channel roles across the company. She grew the Water+ portfolio to be the #1 contributor to category growth, led award winning brand campaigns for Pepsi, and launched the Pure Leaf Iced Tea brand.
Prior to PepsiCo, Stacy spent 4 years at American Express. She graduated with honors from the University of Pennsylvania and has an MBA from Harvard Business School. Stacy serves on the Board of two non-profit organizations and has been recognized by the Advertising & Marketing industry with several awards throughout her career.
Head of Industry | Retail, Luxury, Fashion, Meta
12:00–2:00 VIP Lunch
As Head of Industry, Retail/Fashion/Luxury, Karin Tracy oversees Meta's retail, fashion and luxury practices, which she built over the past 8 years to help brands drive real business results through their work on Facebook, Instagram and Messenger.
Since joining Facebook in 2015, Karin has developed go-to market strategies tailored for retail, fashion, beauty and luxury marketers and built a best-in-class team that has forged senior-level partnerships within the industry. Karin has pioneered initiatives such as CEW's Digital Learning Series and Facebook & Instagram's first-ever Beauty and Luxury Summits.
Previous to Meta, Karin Tracy was Publisher of InStyle from 2012-2014, following four highly successful years in senior leadership within Time Inc.'s Style and Entertainment Group as Publisher of Entertainment Weekly and People StyleWatch. At InStyle, she oversaw the magazine's marketing, advertising sales and brand strategy for the monthly and annual special issues. In addition, she oversaw marketing and sales strategy for InStyle.com and its social platforms, including product innovation, branded content, audience development and ad solutions.
Before joining Time Inc., Tracy was Associate Publisher of Lucky and held Sales Director positions at Marie Claire, Harper's Bazaar, Interview, and Teen Vogue. She began her advertising career at Giorgio Armani and spent a year in Saks Fifth Avenue's Marketing Department.
Tracy is a lifelong New Yorker, is a board member of CEW (Cosmetic Executive Women) and VP Partnerships on the NY Women in Communications executive board. She graduated from the Fashion Institute of Technology with a B.S. degree in marketing, is a member of the FIT Alumni Advisory Board and was the recipient of FIT's 2022 President's Award. In 2022 Karin was listed as one of BCG/WWD's 25 Most Inspirational Women. She resides in downtown Manhattan with her husband and their three children.
Senior Writer, Fortune
12:00–2:00 VIP Lunch
Phil Wahba is a Senior Writer at Fortune primarily focused on leadership coverage, with a prior focus on retail. His award-winning features include profiles of CEO's at J.C. Penney and Kohl's and an examination of how private equity transformed the retail sector. He is also a co-chair of the Fortune Brainstorm Tech conference.
Phil joined Fortune in 2014 from Reuters, where he covered retail, corporate bankruptcies, the stock exchanges, and wrote a weekly column about IPOs. He has also worked as a trade commissioner in New York for the Canadian government. He holds a B.Comm from HEC Montréal and an MBA from the University of Ottawa. In 2007, he graduated from Columbia University with a Masters in Journalism. He is also a CFA charterholder. In addition to his native French and English, Phil speaks Danish, Spanish, and German. He has run a marathon in every U.S. state.
SVP Human Resources, Diversity, Equity and Inclusion, True Religion
12:00–2:00 VIP Lunch
Throughout her career, Theresa has worked as a Human Resources professional enhancing organizational capabilities for large Fortune 500 and private organizations. She has years of experience designing, developing, and delivering organizational curriculum.
In her current role, as the leader of the human resources function, Theresa is responsible for linking HR strategies with organizational and departmental processes and several key organizational development initiatives including: Diversity, Recruitment and Retention Strategies, Initiating Action Learning Paradigms, Designing and Implementing Organizational Culture Shift Strategies, Management Change Initiatives, Leadership Development Initiatives, and Organizational Performance Improvement Strategies.
Theresa was awarded for her work in leadership by being named one of The 2023 Most Inspirational Women Leaders by WWD Magazine and Berns Communications Group. She was profiled in Forbes Magazine and WWD Magazine regarding the diversity initiatives she has implemented as well as her philosophy surrounding the impact of a diverse workplace on the organization and the surrounding communities.
As a keynote speaker, Theresa has spoken at large conferences such as CCW Women, The National Retail Federation, The Lead and many others. As a mentor to many, Theresa is committed to developing, building, and strengthening the leadership abilities of others.
Sunny Woo
Senior Vice President, AEO Stores, U.S. and Canada
12:00–2:00 VIP Lunch
Sunny joined AEO in 2017 as the Senior Vice President of AEO Stores in the U.S. and Canada. Her leadership of the American Eagle, Aerie and OFFL/NE by Aerie store teams has been instrumental in AEO's growth as she strategically places the customer and her teams at the center of all business decisions.
In her role, Sunny brings the company's vision to life through her focus on people, operations and brands. She passionately works to create one of the happiest places to work and shop while bringing customers, associates and the company closer by encouraging real, authentic connections. Sunny also serves as a Board Member of the AEO Foundation.
Prior to joining AEO, Sunny held positions of progressing responsibility at Victoria's Secret and Macy's.
Reporter, Future of Work, Business Insider
12:00–2:00 VIP Lunch
Alexandra York is a journalist covering entrepreneurship and the future of work at Insider. Her work explores how emerging entrepreneurs, Gen Zers, and other young people are shaping our workforce, business ecosystem, and world. She's done deep dives into mental health in the workplace, how youth business owners are effecting change, when healthcare and business collide, and the trials and tribulations of building a brand.
Alex is a graduate from New York University where she received a Bachelor's degree in Media, Culture, and Communications and a minor in Mandarin Chinese.
Gen Z Whisperer & Venture Capitalist
12:00–2:00 VIP Lunch
TZ is the 'Gen Z Whisperer' and formerly the youngest VC in the world, becoming an investor at a $300M fund at only 18 years old.
TZ is also widely recognized for her marketing talent, featured in Forbes 30 Under 30, Adweek's Young Influential, Vanity Fair's Future Innovators, TIME's Most Influential Teen, etc.
She actively invests and advises companies, including in board advisory positions. She was a board advisor of Otto Radio (acquired by Ximalaya valued at $3.5B) as well as Distributed Systems (acquired by Coinbase).
After founding her first startup, she worked with Snapchat, Levi's, Google, and many other major corps to reach Gen Z.
Now, in her current startup, she's building apps to make social media social again.
Founder, Belletrist
12:00–2:00 VIP Lunch
Karah Preiss is an experienced producer & writer based in New York City. Along with actress Emma Roberts, she founded Belletrist, a social media-first community for book lovers which they have recently turned into a film/tv producing vehicle called Belletrist Productions, whose shows include the Hulu drama TELL ME LIES & the Netflix YA series FIRST KILL. Through Belletrist, Karah and Emma are on a mission to promote reading as an accessible and unique form of self-care.